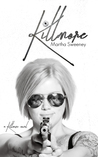 Killmore by Martha Sweeney
My rating: 4 of 5 stars
4 Sex kitten Stars!
Leia is working undercover with the FBI to bring down a sex traffic ring which her husband Jack, a cop, is mixed up in. I have to start by saying that Jack is a dirty, dirty cop and he is the reason Leia is determined to get this sting with the FBI over with, they will give her the divorce and protection she needs in order to get away from her abusive husband. Of course things do not go according to plan but that doesn't effect Leia because she is finally free of her husband.
Once placed into protective custody Leia becomes Laurie a successful business owner, somewhat of a recluse, and a total bad-ass!
The saying goes "What doesn't kill you will make you stronger" and Laurie embodies that statement completely. She works hard to keep herself in tip top shape in case she ever finds her self in a sticky situation she'll have the power and knowledge to help keep her protected.
Laurie has been doing an excellent job of not letting anyone get close to her other than Trudy, her two boys, and the Lenards, an elderly couple that she adores, she hasn't even let Dr. Codie a man she has been sleeping with on and off for two years now in, she uses him for sex and nothing more regardless of his feelings for her. I actually felt bad for the guy until Aiden comes to town and I quickly realized that he was the one for her.
Aiden and Paul are in town posing as father and son but when Laurie meets them she knows there's more than meets the eye with these two. And boy, oh boy is there! I absolutely LOVED Aiden, that man is sex on a stick! YUM....anyway, I digress, Paul and Aiden need to get close to Laurie but she doesn't trust anyone especially the FBI.
I loved watching the attraction between Laurie and Aiden grow despite her insistence that she was going to use him for sex only, something that he agrees to without hesitation, their relationship may have started out as a cover - but before Laurie knew what was happening things changed. This story had so much going on, not only the romance of Laurie and Aiden, the friendships that were cultivated, but the suspense of not knowing what was going to happen next, who were the good guys and the bad ones, it was a great all encompassing story that I didn't want to end. And the ENDING....OH MY! I cannot wait for The Killmores to come out.
**I voluntarily reviewed an Advance Reader Copy of this book given to me by the author, this is a completely honest and non-incentivized review**